hi lil buddies.
how are you all?
a little annoyed that i only blog once a month?
nah, i figured that you probably didn't give a shit, but also figured i would update you anyway...
so lets see what has been going on....
the day before the election i got hypnotized to quit smoking. i had this appointment set since the beginning of october.
why november third?
why not?
so the morning of the third i wake up. and about 10 minutes before i am going to leave for work gretchen calls to let me know that both of our cars have been broken into.
lucky for me they just decided to smash my drivers side window...(not sure if i all ready told you that i had to replace my battery, but i did) and go through allllll the shit in my car.
now for those of you that know me, you know that when i say "the shit in my car" you know that it is exactly that-shit.
i do not keep valuable things in my car, and now i try and keep NOTHING in there.
so the coat that i got for free from kelly was about to become a $200-something dollar coat since that is all the a-holes took.
you dumb fucks. you totally missed my checkbook.
HOWEVER....thanks to the wonderful and talented roommates boyfriend from heaven the window was fixed for $60...the day before it started raining like mad.
so anyway...i had a pretty shitty morning and thought wow...this is a bad day to quit smoking....and the election was the next day and then liz was coming in town and amanda's wedding....i really thought this was not the best time.
so i went in and i told my therapist that and as the words came out of my mouth i knew what he was going to say. so i finished my list of reasons of why today was not the day for me with the thought "it is never the right time to quit". i took a few drags off a few cigarettes monday and tuesday and then wednesday was it. done. no mas.
it wasn't that hard...so i am thinkging the hypnosis worked.
i still have the inspirational words taped under my monitor at work.
1) for my body smoking is poison
2) i need my body to live
3) i owe my body this respect and protection
sounds so lame. but it is true. and for me, it worked.
it has been a month now. and i am pretty damn proud of myself.
so i got a new battery. a new window. quit smoking....
and then on the way to work the next wednesday my car died. while i was driving it.
awesome.
$456 later i am the proud owner of the FOURTH ALTERNATOR I HAVE PUT IN THIS BEAST OF A BITCH CAR
why do i still own it?
because i am lazy-duh!
i was supposed to pick up liz the next day from the airport. with high stress and no smoking i rounded up jill (who came and got me) and kelly and we were off to db coopers for drinking and culture.
jill and i drank a little too much and stayed out a little too late and may or may not have sang "summer nights" with two med students.
i woke up a little ashamed and more than a little hungover.
i had to get mcdonalds breakfast....that is where i was at.
i had planned to leave work early, pick up amanda and go get liz. thank god amanda was a calm bride. she came and got me from work. we got some shit together at her house, made a "welcome home beth" sign and headed to the airport to pick up our girl liz.
luckily my car was able to be picked up that evening...because wedding weekend without a car would have been a disater for sure.
that night the ladies all headed to lee's summit to hang out with amanda. we ate a stupid amount of food. murdered a box of franzia. laughed until we almost peed and liz puked.
it was awesome.
we were in bed by 10:30....this was a good thing. as the next day was WATSON WEDDING DAY!!!!
liz and i got up. showered and headed over to the salon so liana could give me the cutest curly 'do ever.
thanks liana...you rock.
loren met us at the apartment and mo picked us up.
from there it was off to the summit for sandwiches, shots, champgna, a serious laugh a thon and a few tears from amanda and her mama at her mom's house.
once the clock struck two we headed over to the mansion to get ready.
and take more shots.
and drink more champagna.
it was all a whirl...and we ran late...and amanda looked absolutly amazing.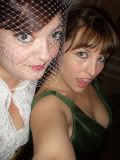 the rest of us cleaned up all right too...
the ceremony was short and sweet.
jeremy kept making funny faces at amanda.
i got real nervous during my scripture reading....
no i didn't catch on fire assholes.
they high fived after the kiss.
it was pretty freakin sweet.
then onto the reception.
the cocktail hour was...well...full of cocktails.
the dinner was some of the best wedding food i have had.
and the dancing...well, lets let the picture do the talking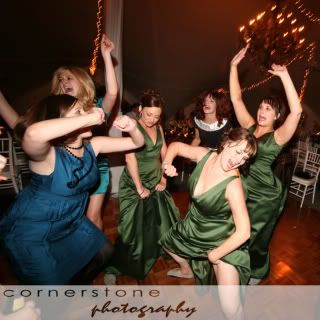 from there we loaded onto a party bus full of booze, friends and GIRLTALK!
needless to say i danced from lee's summit to westport...and the big bruise on my ass for the next week tells me i fell down.
about half of us got off the bus and drug our drunk asses....complete with wedding attire...to kelly's.
the bar. not the friend.
where we met up with this guy
blog readers....meet bryce.
we like this guy.
he is our friend.
i may or may not make a list later of all the reasons i like him.
but for now, we will just leave it as that.
kelly's consisted of more drinking. nipple tweaking. shot taking. bluegrass dancin. and glass breakin.
it all gets blurry after that.
liz and i were home, via cab, sometime between 4:30 and 5:00.
the next day she and i went to breakfast around 8:00...don't ask liz about it.
drove kel, brad and jill back to their cars in the summit.
picked up erin and went to the prop 8 protest on the plaza and then finally hit the couch around 2:00.
neither of us ever got a nap.
but what we lacked in sleep we made up for in laughter.
sisterfriend- that is one of the best couch laying sessions of my life. pound puppies and vacuum cleaners. i fucking love you. nuf said?
we finally took showers and went and met joel and liana for dinner at the vietnamese place in the river market.
for cheating death by drinking, we look pretty good!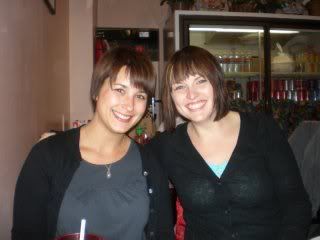 from there we went to joels. then to grinders. then liana and joel pussed out.
liz and i went to crosstown.
i fell asleep sitting up at a table at least 3 times while she was outside smoking.
then we went to gilhoulies to see some more of liz's people.
bryce met us there.
then back to the apartment for mario party.
how did we stay up until 4 again? no clue
the next day i had to ship her back to nyc. but what a fabulous weekend.
it is the first time that it has really felt like she was just back to visit. and just back to visit us. and i loved it.
i can't wait to come see you!
amanda...you were a beauty and a joy! you looked like a 40s movie star. and you both glowed all night. i hope that was a sample of what is to come for all of us. i love you moo and i am so very honored to have been a part of your day.
here are a few more of the day...